Our studio and nonprofit performing arts organization has many things to be aware of and be reminded. Emails can get buried, ignored, and deleted.  In order to better communicate, instantly alert participants/students/families, and streamline information, RMSA/RMDT has our own FREE studio app for iPhones & Android.
Download our free studio app at


Where to look:
Rocky Mountain School of the Arts (RMSA) is our Arts Studio offering dance and music classes and individual piano lessons throughout the year. If you want information and calendars for
RMSA Dance
RMSA Piano
RMSA Music
RMSA Dance Store
click "Rocky Mountain School of the Arts" button on your app home page and follow the buttons to where you want to go!
Rocky Mountain Dance Theatre (RMDT) is our nonprofit performing arts organization. If you want information and calendars for:
RMDT Nutcracker
RMDT Wild West Spectacular the Musical
RMDT's The Cody Theatre Company
RMDT Summer Outreach
RMDT Spring Company
RMDT New York Experience
RMDT Access for All
click "Rocky Mountain Dance Theatre" button on your app home page and follow the buttons to where you want to go!
My Account
Anyone registered into our RMDT programs and RMSA classes has a "My Account".  The "My Account" button will direct you to YOUR personal information, enrollments, etc. See below for more info and how to utilize this.
SHARE IT
We want everyone that is connected in anyway to the studio/your child and our programs or classes to download the app so please share it with co-parent(s), grandparents, carpoolers, studio kids with smart phones.
Just a few reasons why you should share
Every year we have someone show up to pick up or drop off a child and they didn't know about a schedule change OR that the calendar is different for that specific day even though it has been on the schedule for awhile.
If others are responsible for your child(ren) it can get frustrating if they do not know what is going on at the studio.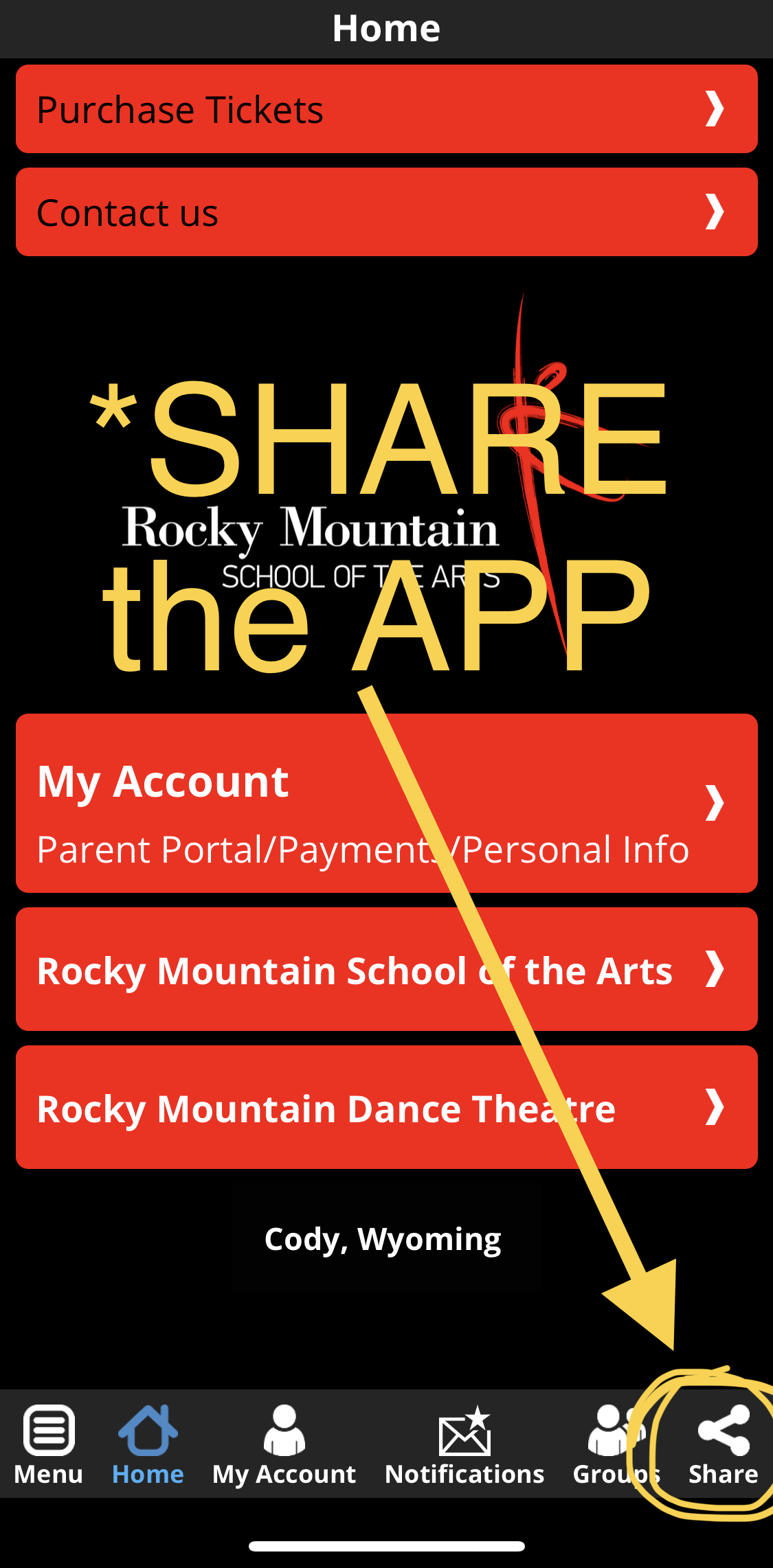 SYNC PORTAL
The VERY first class a student is ever enrolled in, an online account or Portal is set up. The main contact should have received an email shortly after registering with information how to access this. To have easy access to your portal at all times, simply log into "My Account" in the app as you would your online "Portal" account. This will sync it to your app just on your phone. If you forgot your password you can also request to create a new one by clicking "forgot password".
Just a few reasons why you should sync
ability to read any studio email sent to you
enroll into classes
see payment/account information
keep track of Dance Store purchases
update you and your child(ren's) information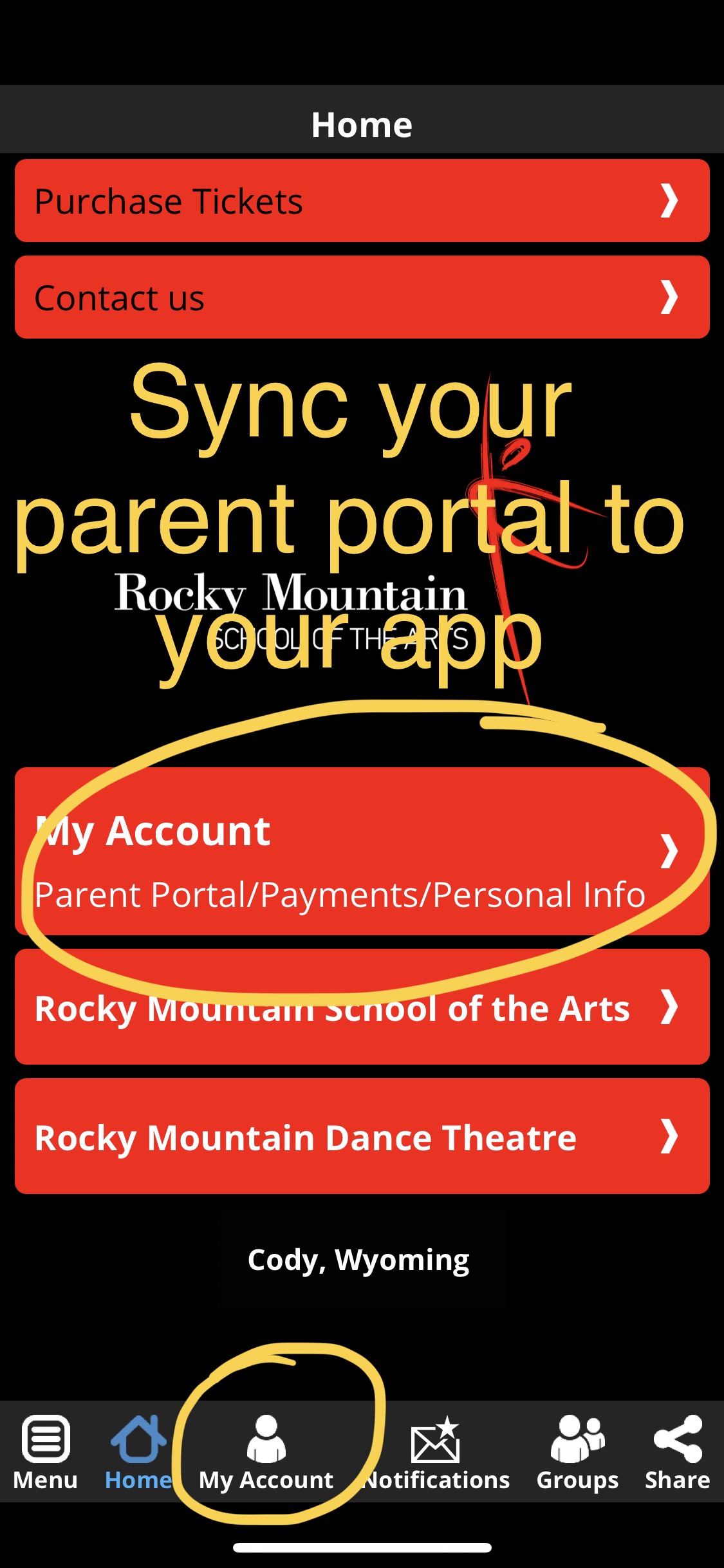 Opt Into Groups
An easy way to stay informed and up to date is by opting into ALL the groups pertaining to you/your student. We ask that everyone also stay opted into "General RMSA Information" and "General RMDT Information". This way you will receive instant alerts and push notifications pertaining to those groups. Make sure others you have shared the app with does this too so they also stay informed.
*CHECK YOUR SMART PHONE SETTINGS that your phone will allow our app to send alerts & notifications. You can also choose how notifications alert you and how long they stay on your phone.
Just a few reasons why you should opt in
It's hard to remember everything, let our app help!
Be instantly alerted to any updates, schedule changes, or reminders especially pertaining to you and/or your student
PLEASE NOTE: every new school year you will have to opt into the new classes your student is in and opt out of the class from last year.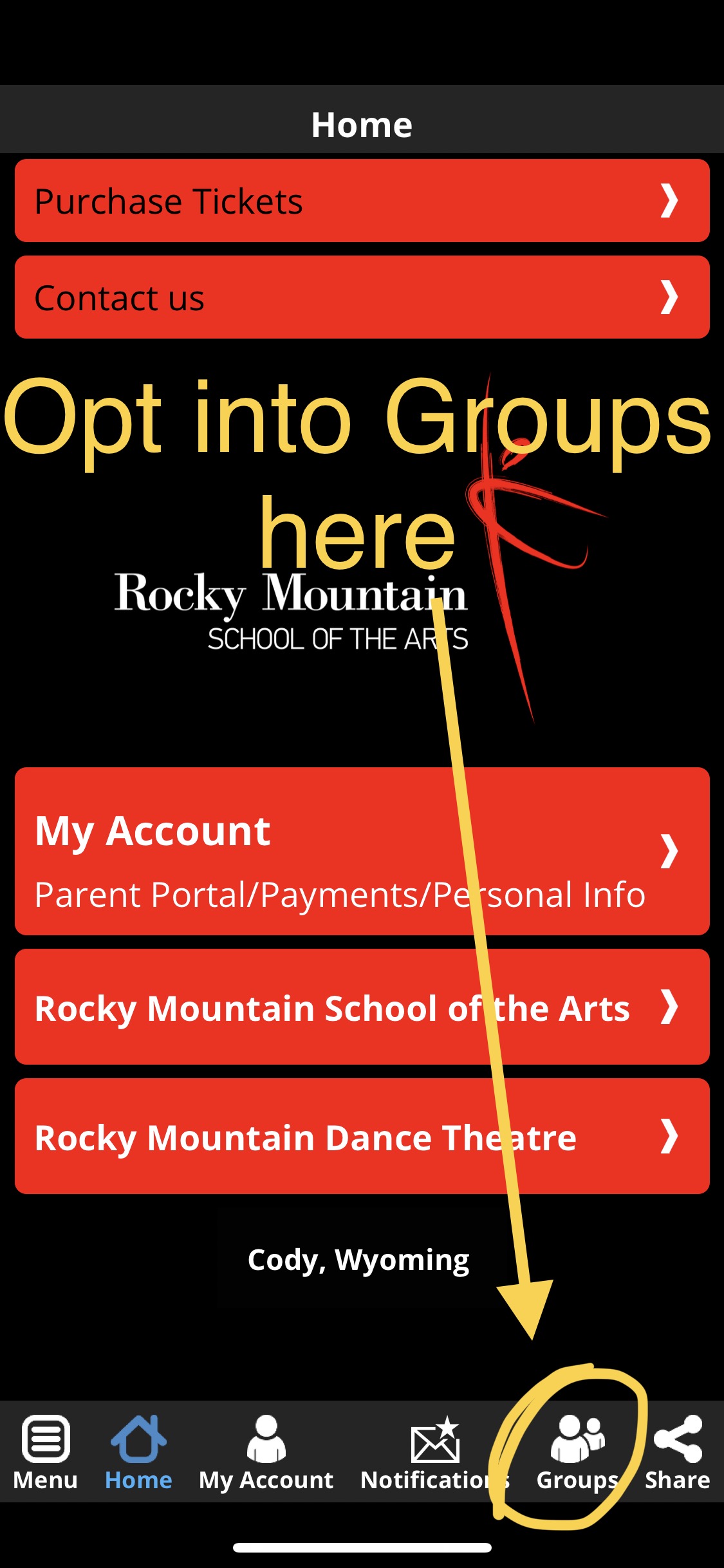 READ PUSH NOTIFICATIONS
Once your opted into "GROUPS", you should receive push notifications pertaining to to those "groups" and any push notification can be read here. Even if you missed an alert or your phone isn't notifying you of notifications, once opted in, you should be able to read them all here.
Just a few reasons why you should check notifications regularly
It can happen that a phone doesn't alert you or you don't see/hear the alert of a new notification
Once your app is opted in, ANY notification we send out about that group should show up here (unless you deleted the notification) so even if you read one, you can go back to it later.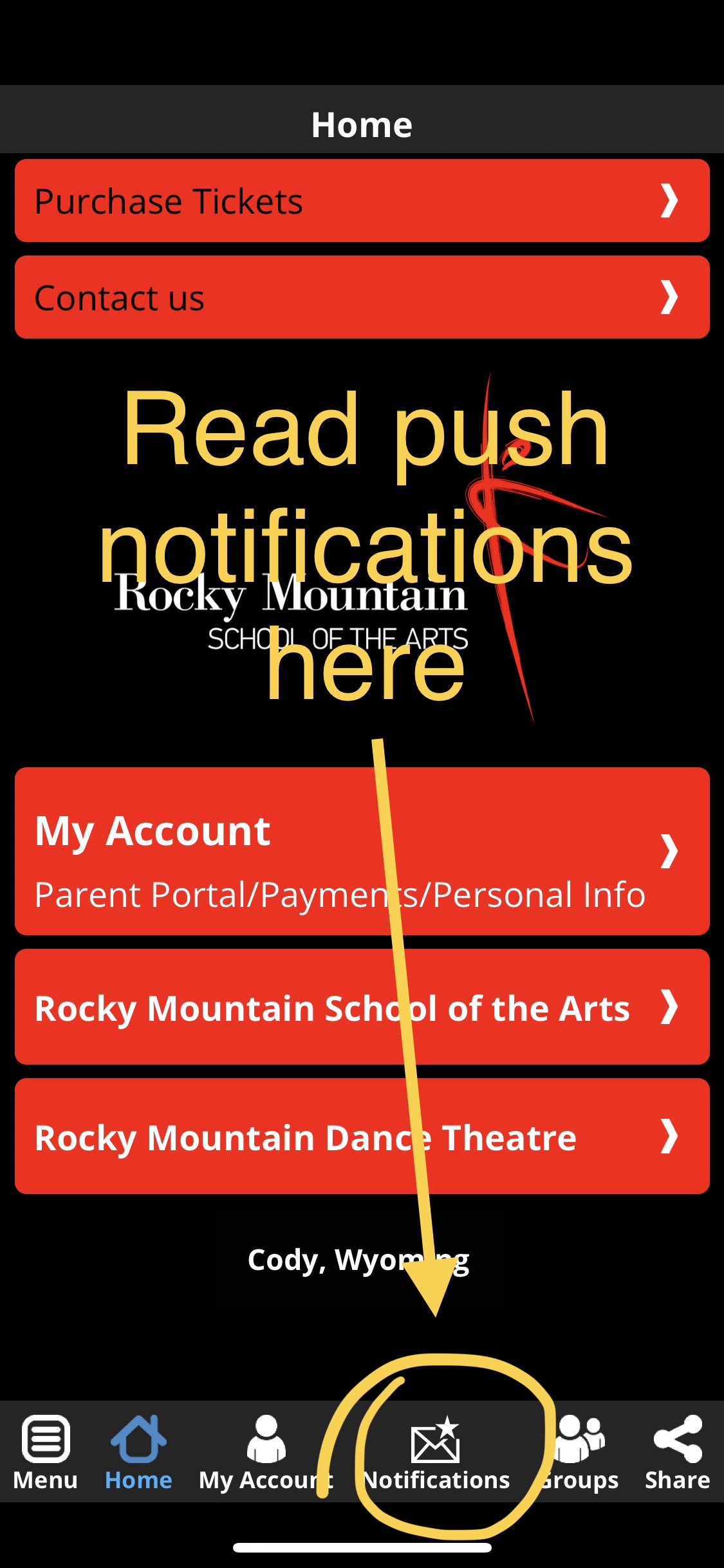 View/Download/Subscribe to Calendars
ANY app user can view ANY calendar for RMSA and RMDT have unless they are password protected for a specific group. These are vital in knowing what classes/events schedules are at any given time for anything related with RMSA and RMDT.
Apple users can download/subscribe to our studio calendars via the app. Unfortunately this option is not yet available for Android users.
Those of you with google accounts can add calendars via our website calendars by clicking on the + on the bottom right corner of the calendar(s) you want to subscribe to and you should be prompted to your online google account.
Those that do NOT have iphones or google accounts will have to simply refer to our app and website calendars regularly. Any calendar changes or updates you will be notified through app push notifications/alerts. AGAIN, make sure your opted into the correct push notification groups!
Please note: EVERY year you will have to delete/unsubscribe your old calendars on your smart phone calendars and subscribe/download the new ones pertaining to your classes/involvement for the year.
Please NOTE!
For anyone to view calendars AND for iphone users downloadable on app go to:

For RMSA Dance Calendars: App Homepage > RMSA> RMSA Dance > Dance Class Calendars > pick which ones
For RMSA Piano & Music Calendars: App Homepage > RMSA > RMSA Music > select Piano Lessons or Music Classes > calendars
For RMDT Nutcracker Calendars: App Homepage > RMDT > Nutcracker > younger or older calendar

To view ALL calendars ONLINE and for google accounts to download go to: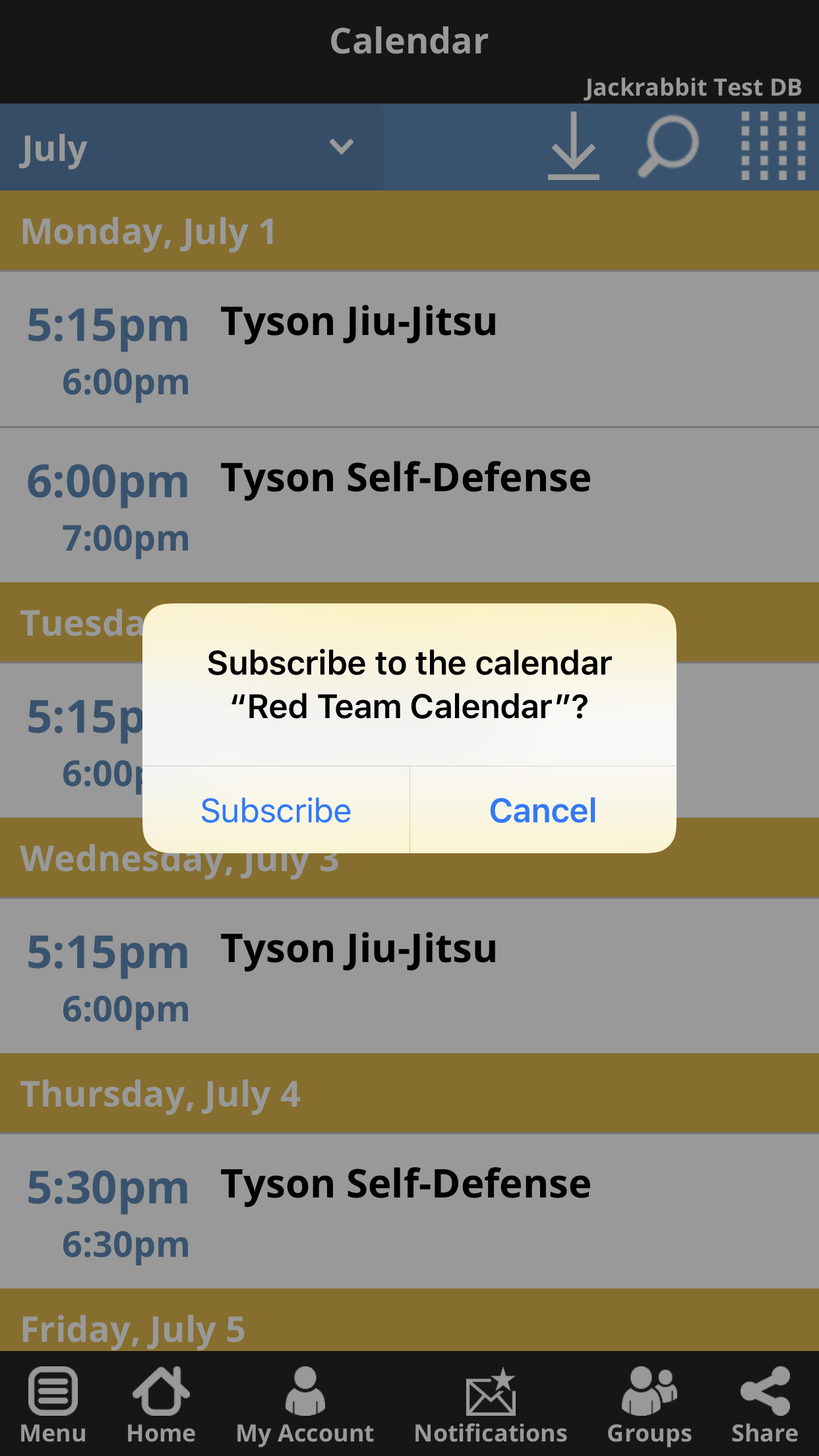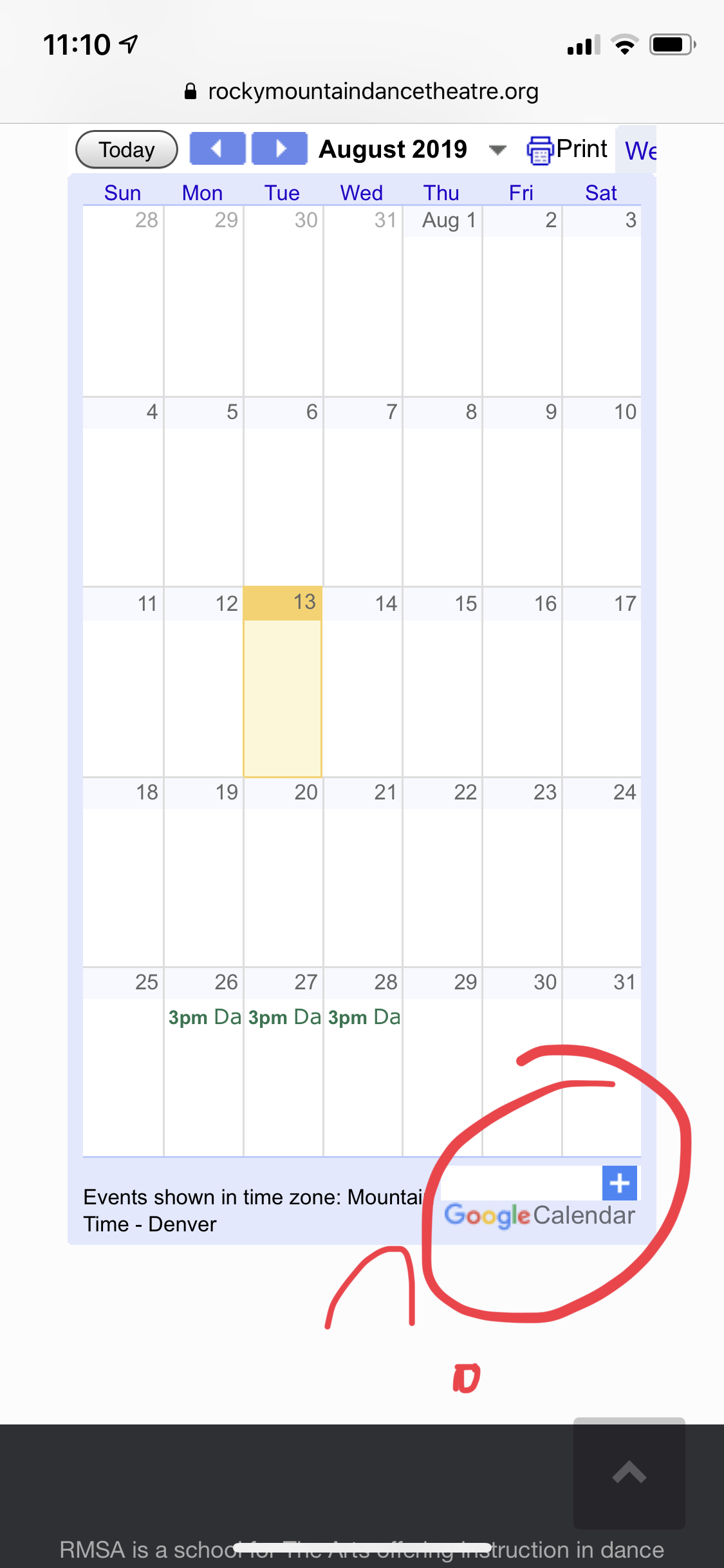 Using My Account (Portal)
As stated above, only those registered in a RMSA class or RMDT program (this does NOT include Wild West Cast and The Cody Theatre Company) have a portal and once you sync your portal to your app it becomes very easy to keep personal account information handy and up to date.
Read ANY emails we send under "messages"
Add a new student
View/Edit student information
See current enrollments for each individual child

please note, once classes start do NOT refer to enrollment for days/times of classes as this is not the class calendars; always see class calendars! Class Calendars are NOT found in the My Account/Portal but under Rocky Mountain School of the Arts > RMSA Dance > Dance Class Calendars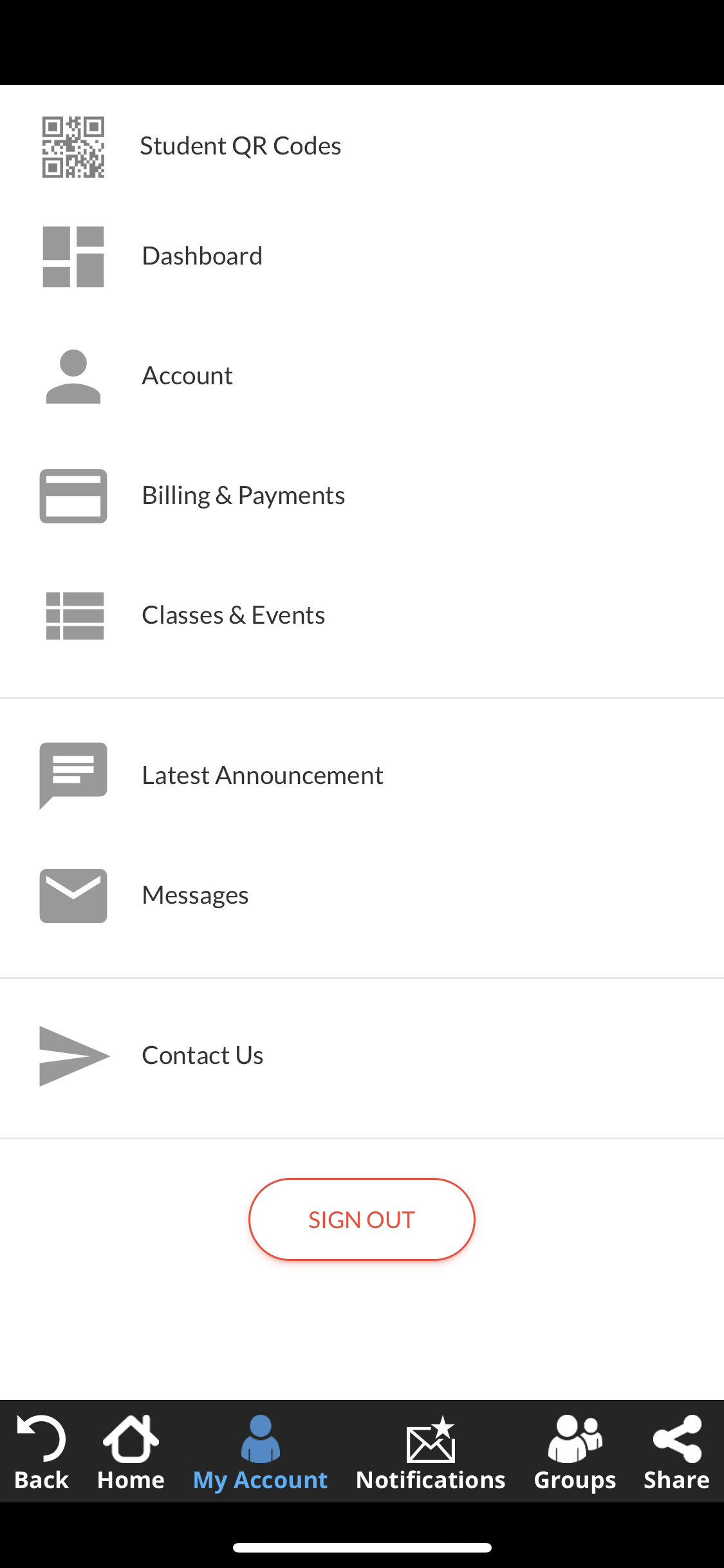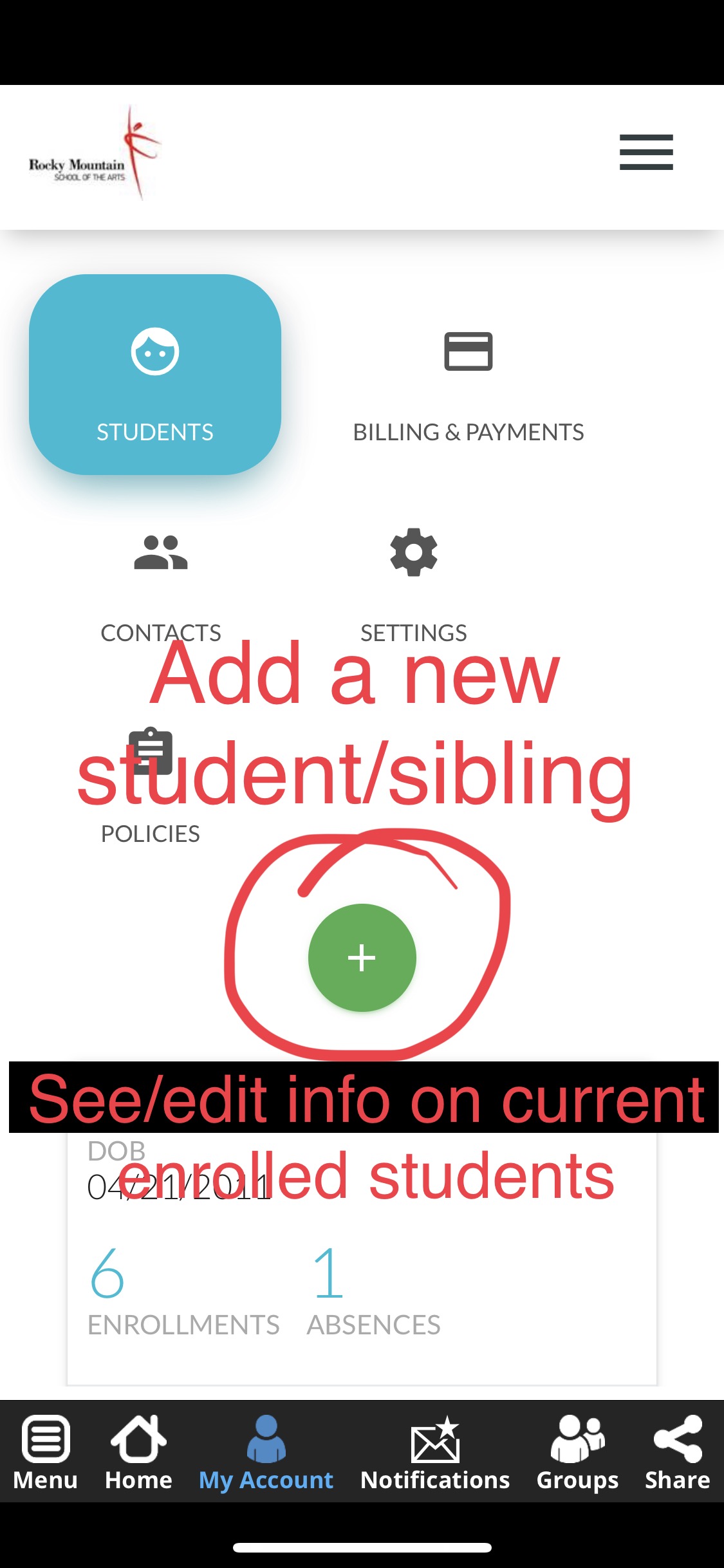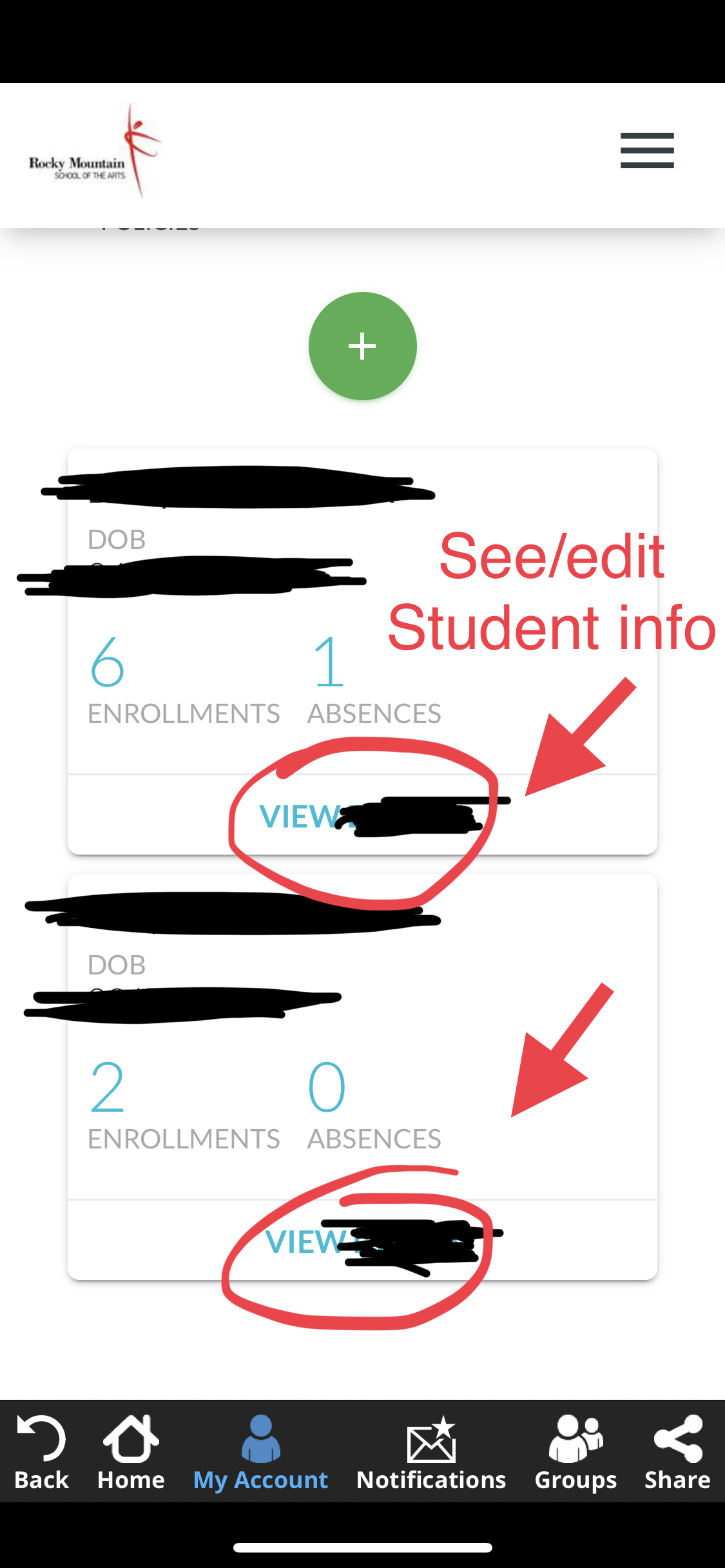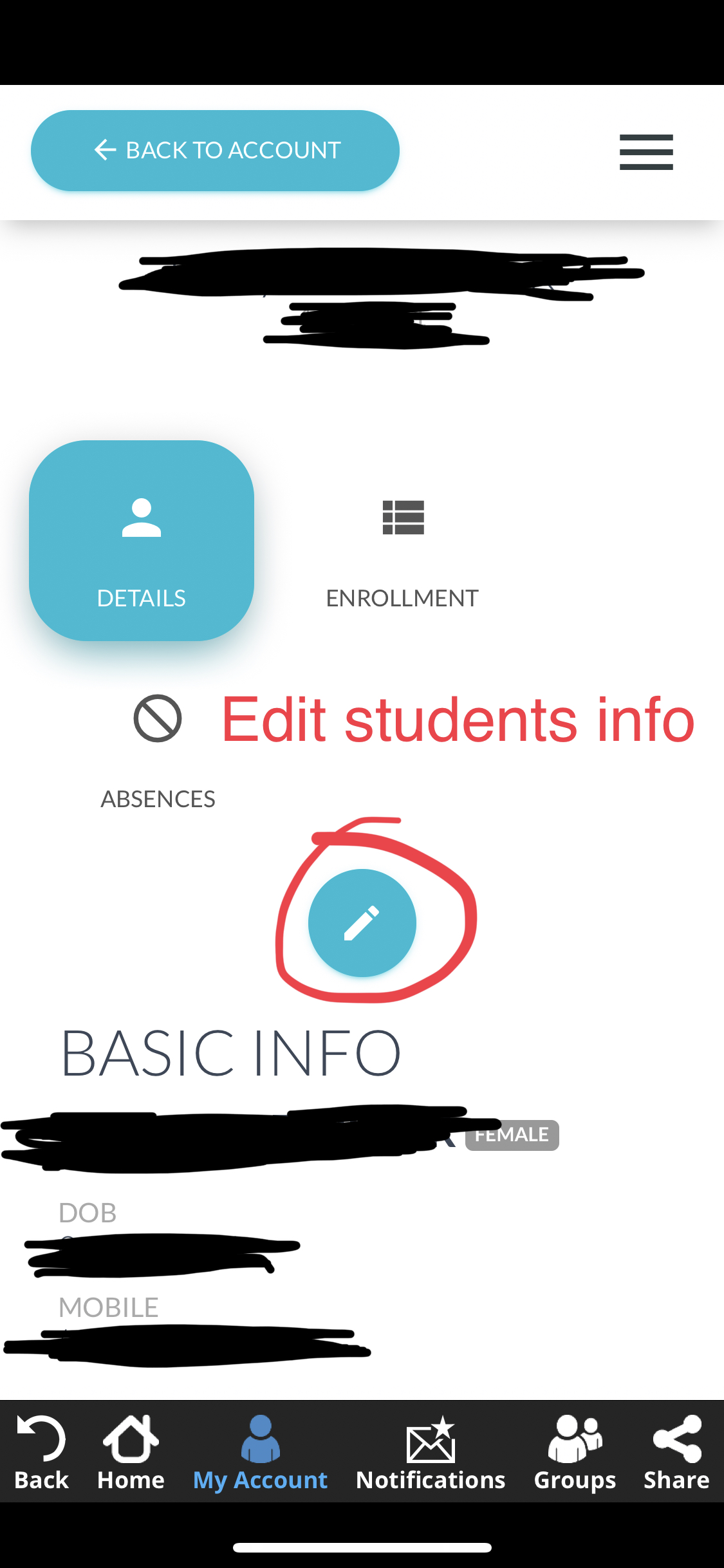 Using My Account (Portal)
Continued...
Edit personal contact & billing information
Add/Edit other contacts to your personal account
Give other contacts log in permissions to personal account
Read "sign" yearly policies with a click of a button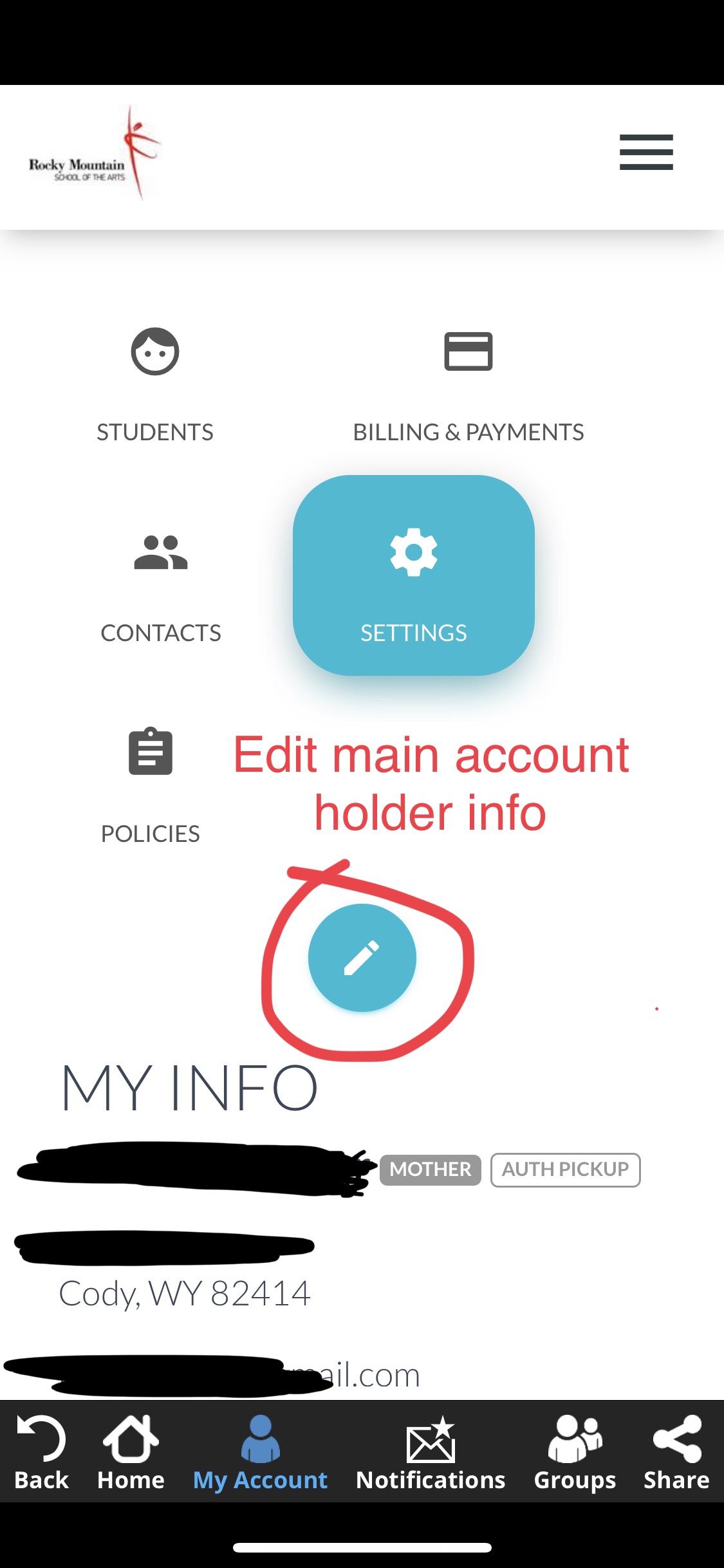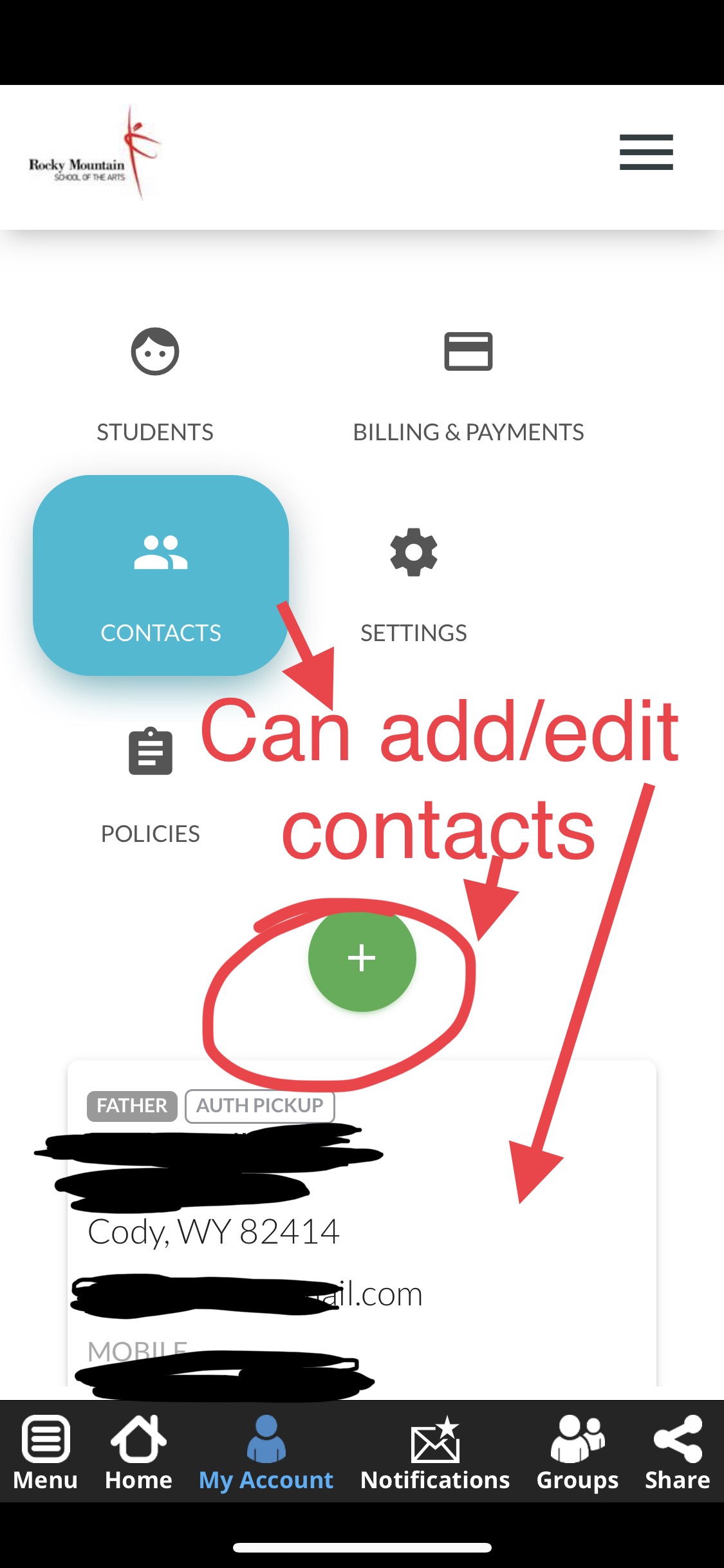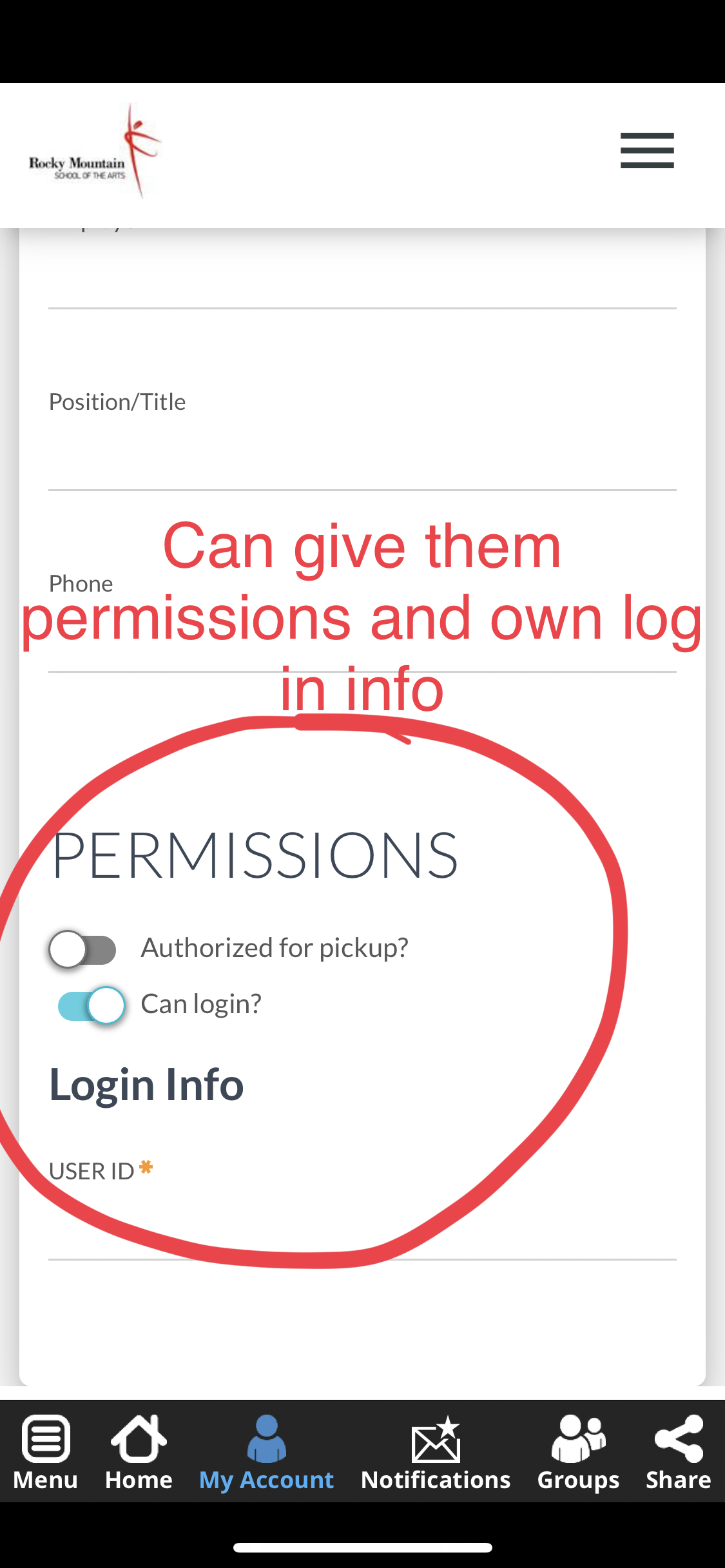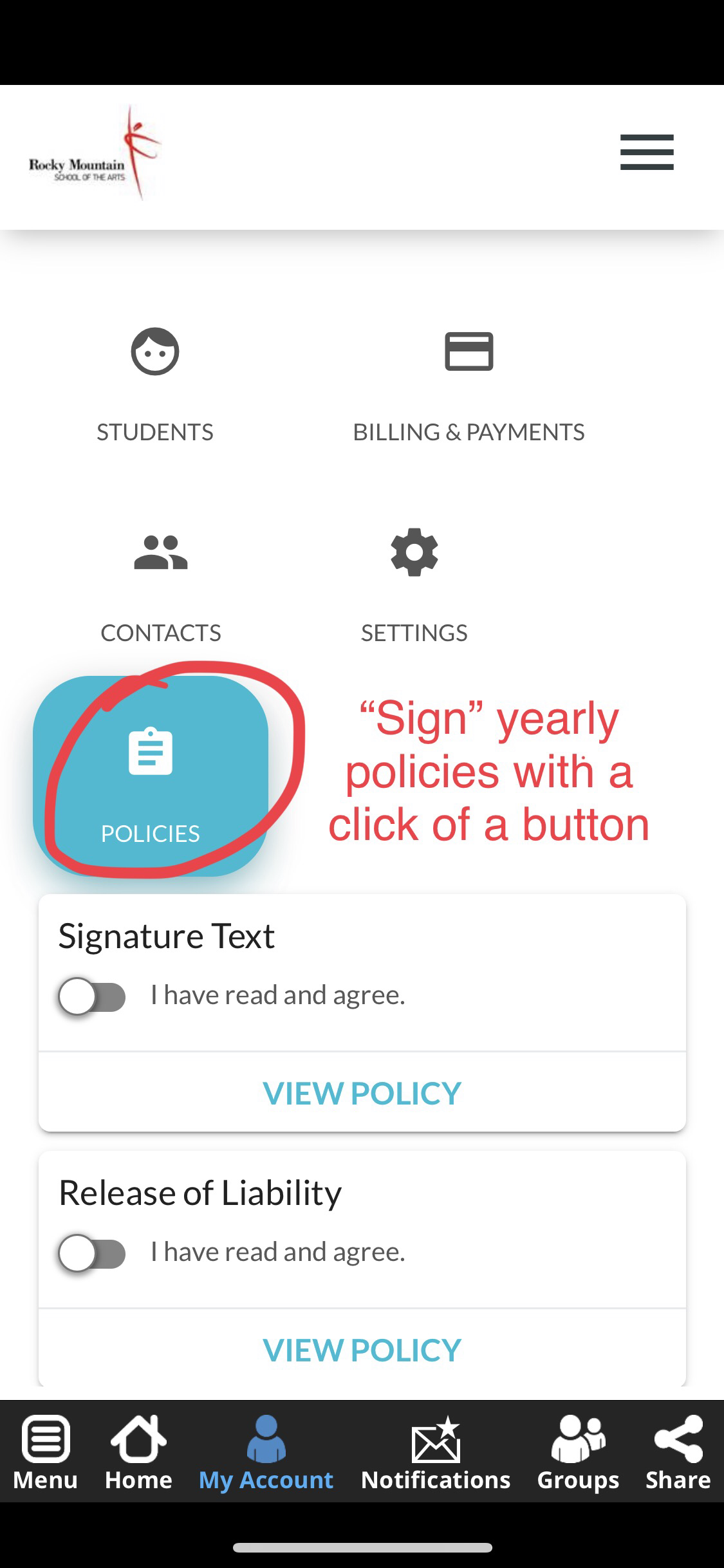 Other Helps
ALWAYS accept new updates for our App; this means actual new information has been added not just app code. 
The app HOME main Menu offer more options.
Did you know? You can share pictures you have taken at events or at the studio by uploading them for the administrator to approve so they can be shared with all!
Follow us on our many social media pages!
Have questions about your account billing/payments? Send an email directly from your app to accounts manager or other faculty/staff.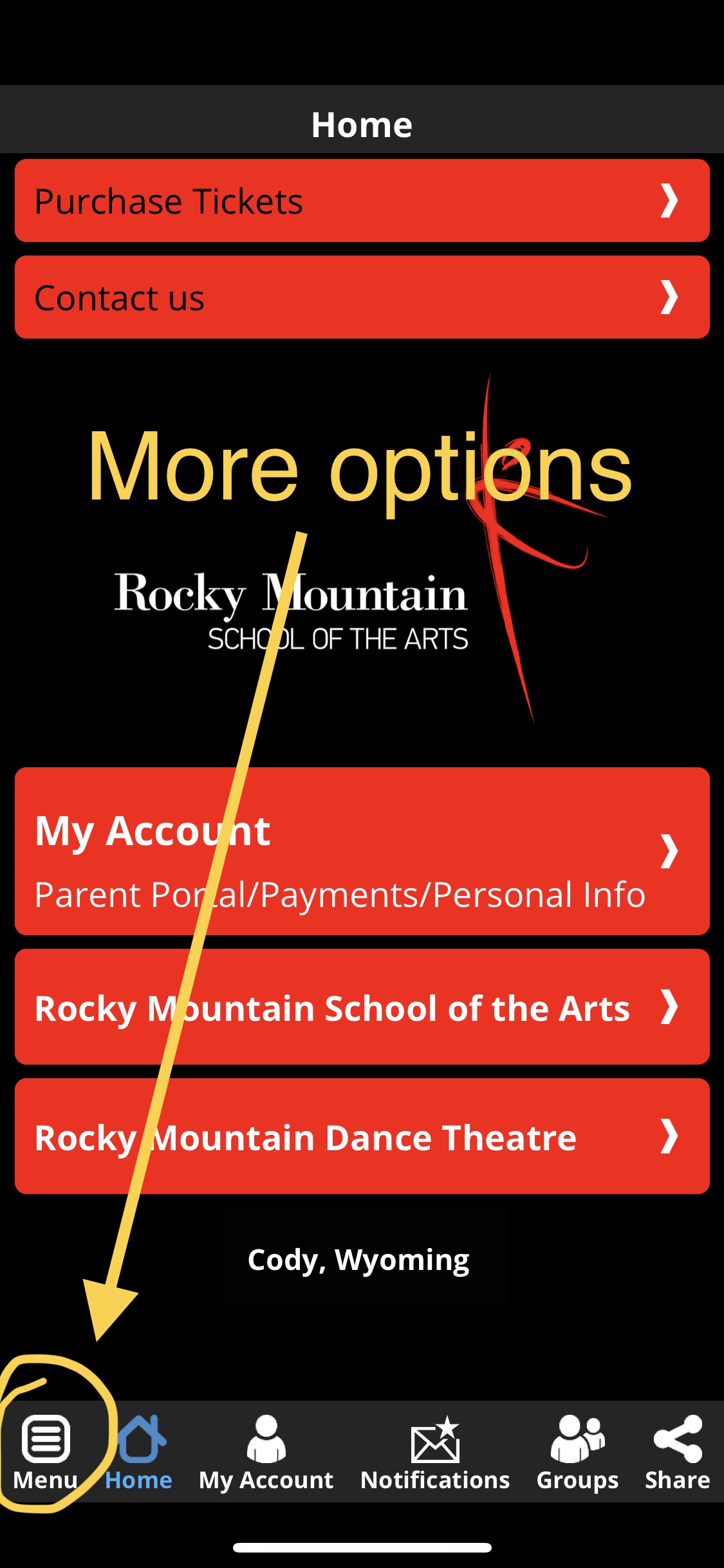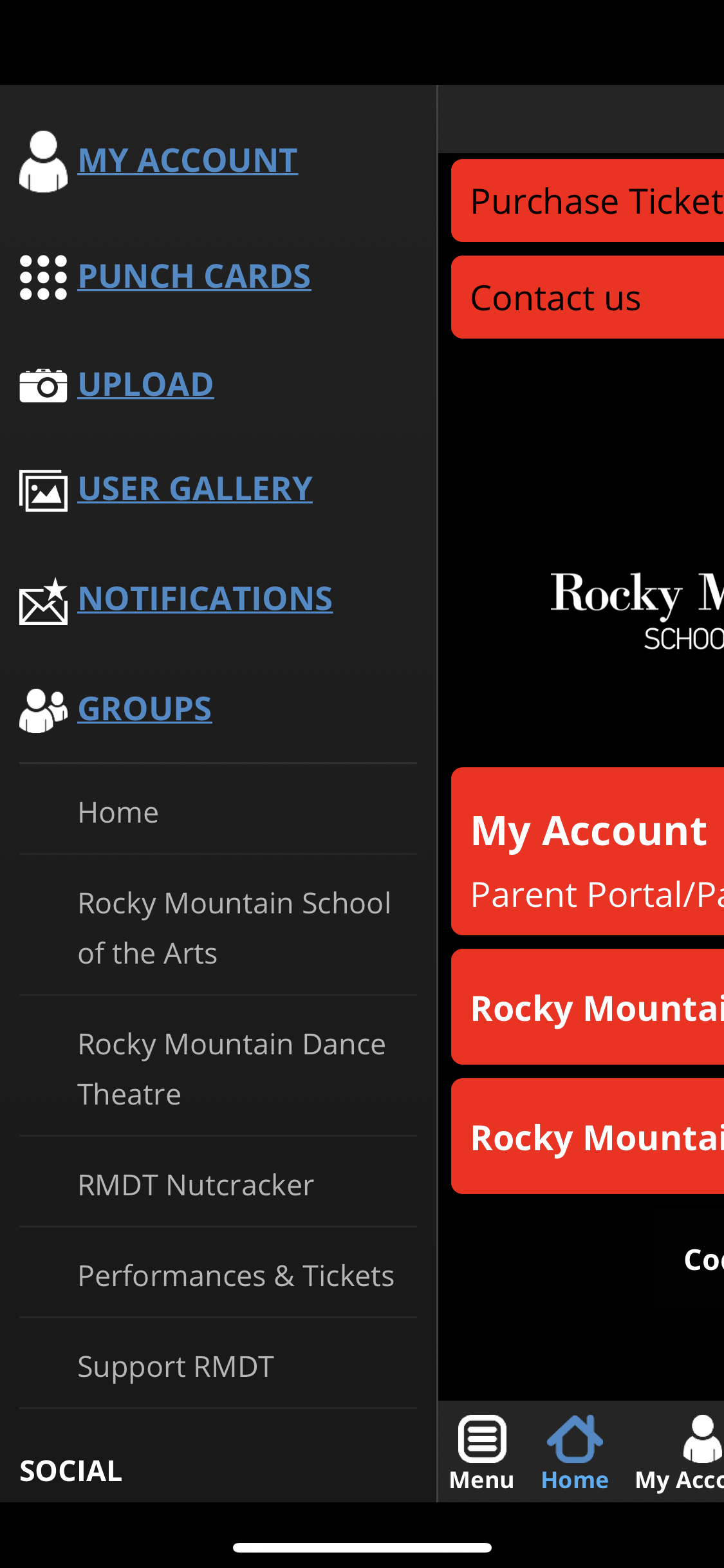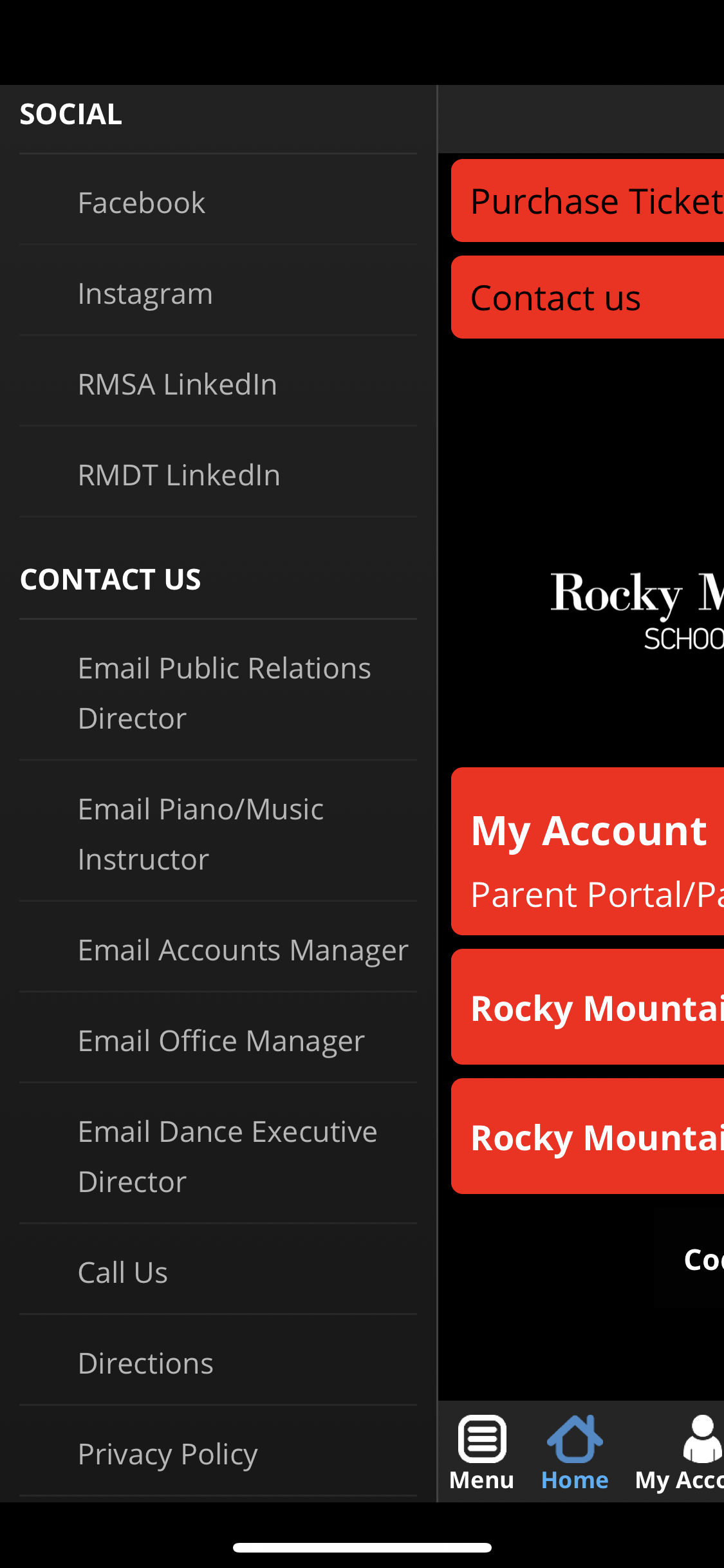 Trouble Shooting
App keeps freezing up?
Are you out of cell service or wifi?
Like any app, you may need to delete and redownload. IF you delete and redownload please note:

You'll need to resync/log into your "my account" or portal
You'll probably loose past push notifications
You'll need to re opt into push notification groups

ANYTHING that is in the app can also be found on our website: rockymountainschoolofthearts.com and rockymountaindancetheatre.org
Issues purchasing tickets or submitting jotforms via app?
With cookies and security protections sometimes people have issues using the app to do these certain things which directs them to outside webpages to purchase DVD's, tickets, Nutcracker shirts..... Using a web browser: Go directly online to any of our websites. You should be able to easily find these same ticket sites, jot forms, etc. also on our websites.
Can't find what I need in the app?
All piano, dance & music class information and calendars are also listed under Rocky Mountain School of the Arts; our arts school.
Nutcracker, Spring Company, Wild West Spectacular, Summer Outreach, New York Trip, Swing into Spring... these are all programs & productions of nonprofit performing arts organization, Rocky Mountain Dance Theatre. (ALL Nutcracker information & calendars will be listed under Rocky Mountain Dance Theatre)
Not getting push notifications?
Check to see that your opted into them under "GROUPS"
Check your smart phone settings are allowing push notifications for RMSA's Studio App
Not seeing/receiving emails?
Any and all emails we send (besides ones from Miss Cindi), can be read under your "My Account" > "Messages"
Any other questions or issues contact [email protected]