TMYK: Dance Tights
First thing you need to know is that dress tights you can buy at Walmart etc are NOT the same as dance tights! The material and cut is in fact very different. Different Dance styles AND dance levels require certain types of tights. Please see attire dress code for what your dancer should get for class AND Nutcracker, Jazz Christmas, and Spring Performances needs as tights can be different.
COLORS:
For the most part, you wont find any electric hot pink or neon green tights in a dancewear section. You can find ballet pink, black and basic tan/nude at RMSA's dance store. We can also order in a whole variety of shades of tan to match skin tones for performance costume needs. DID YOU KNOW: like bodyliners, nude/tan tights should ONLY be worn for certain performances; not during dance classes.
CARE:
to keep your tights the right colors and from pelting or snagging in the wash use gentle cycle or hand wash in cold water with similar colors AND fabrics; ie don't wash with jeans, sweats, towels....
Hang to dry. Do not bleach
STYLES
To help navigate and understand all the different styles, see the helpful list below!
Footed
For the non-dance world footed rights is typically the standard. Similar to a regular ol' pair of tights, "Footed" is pretty self explanatory as they cover the entire foot and leg. ALL RMSA preschool, kindergarten, Academy 1, 1b, 2, 2b should only get footed tights.
Once dancers start taking different styles of dance; these other types of tights below can be helpful AND/OR are needed.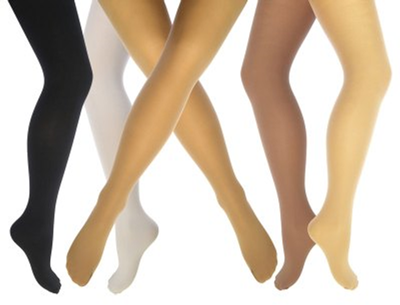 Convertible/Transition/Adaptatoe
Convertible tights are very similar to footed tights except they have a small hole on the bottom of each foot. These are great for dancers with back to back dance classes in different styles as they can be pulled over the foot to sit on the ankle (similarly to ankle tights) or pulled down around the foot.  RMSA Academy 3 and older in Ballet AND Contemporary should purchase these so they can easily and quickly transition between a footed class (ballet) and a bare foot class (contemporary).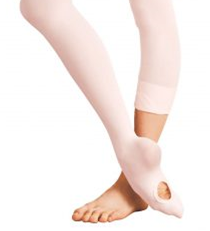 Footless/Ankle
Another pretty self explanatory pair, footless or ankle. These are great for Contemporary class OR if dancers prefer being socked in certain dance shoes such as tap and hip hop class. PLEASE NOTE: for tap performances only males wear socks, females wear footed nude tights. Typically the bottom of these tights has an elastic band that ensures they do not ride up the leg.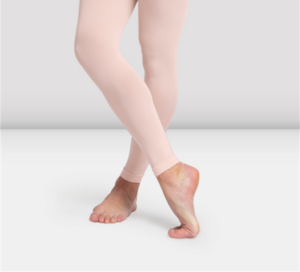 Seemed
These are for older dancers and are ballet specific, generally for performances only but can be worn in ballet class. RMSA Advance Dancers and Older Nutcracker Roles are required to wear them for certain performances.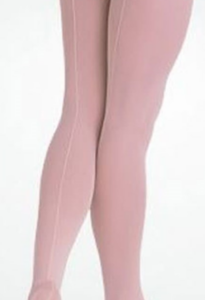 Stirrups
Stirrups are kind of like all of the above tights had a baby. They have a similar bottom elastic to footed except it covers the middle portion of the foot all the way around, leaving the toes and ankle exposed. The are appropriate in Contemporary class and sometimes required for performance attire.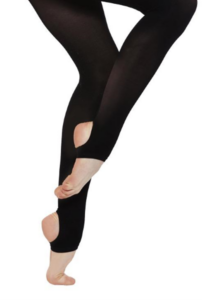 Body Tights
Body tights are another exactly as they sound. They basically cover the entire body with the exception of the arms, neck, and face. They can be used when you want a seamless look with certain costumes so that the waistband etc isn't visible.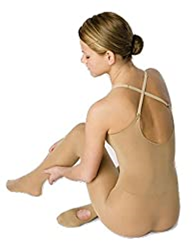 Fishnet
These are used for performances only, and there is no functional purpose.  RMSA Advance Dancers are required to wear them for certain performances/costumes.